CBI's Junior Program does not stop at formal classes. Students can spend their entire day, week, and summer at the boathouse, with plenty of STEM classes, kayaking adventures, organized games and open sailing opportunities to fill their day.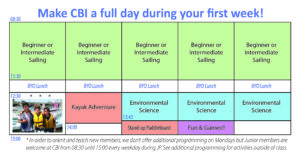 While a red rating is required for most advanced classes, novice and intermediate sailors will enjoy our many other offerings including Kayak Adventure, STEM classes, Windsurf (yellow required), Stand-up Paddleboard, daily clinics, and much more. In addition to our open-sail program and full access to our dock we offer fun weekly activities, field trips, and opportunities for volunteering.
Open Sailing & Paddling

Open sailing remains at the core of our program; it's what keeps kids coming back year after year. Thousands of Bostonians have fond memories of exploring the river with new friends and showing off their skills. Students can check out boats alone or with friends once they have the appropriate rating.
Got some free time before class starts? Your Junior Program membership not only unlocks our fleet of sailboats, it also gives you access to our kayaks and stand-up paddleboards (SUPs.) Explore the lagoon network with a friend or join Kayak Adventure for Ultimate Kayaking.
STEM
Environmental Science
Why do boats float? What plants and animals exist alongside us on the Charles River? Come to Environmental Science to find out! Students will explore the science of sailing and learn about our natural environment, right in the heart of Boston.
Robosail
Control a sailboat without ever stepping aboard! Our RoboSail class combines robotics and sailing into an exciting engineering challenge! Kids learn to program a 3-foot autonomous sailboat, and steer from our dock.
Fun & Games
Join together with the whole community for weekly fun and games. Olympics will be held in the last week of the program. Try your hand at the lifejacket game, sponge relay, or a rousing round of Captain's Coming!