AP Frequently Asked Questions
General Questions & Memberships
Do you offer parking?
The boathouse does not have any onsite parking, but limited parking is available at the LAZ lot next to Mass Eye and Ear Infirmary and the Charles/MGH Red Line stop, a five-minute walk from CBI.
More parking info here
What do the different membership options include?
Check out our membership options here.
If I renew my membership, will my ratings carry over?
Ratings will transfer over to your new membership, as long as you renew within five years of your prior membership's expiration. If it has been more than five years, your ratings may not transfer automatically, but we can usually administer a quick on-the-water test and restore your ratings quickly.
I already know how to sail, can I join?
CBI welcomes sailors of all levels. If you have significant previous sailing experience, ask to speak to the dockmaster on duty. We'll introduce you to CBI's rigging procedures, administer a quick on-the-water test, and "fast-track" you to an appropriate rating.
On The Water
Where can members sail?
Community Boating operates on the Charles River Basin, between the Longfellow and Massachusetts Avenue Bridges.
What do the flags at the dockhouse mean?
CBI uses a color-coded flag system to communicate current conditions. These flags correspond with the rating level required for sailing, and the testing level that is available.
Green: Light wind, no restrictions.
Yellow: Moderate wind. Restrictions on beginner sailors; on-the-water testing may be available.
Red: Strong wind. Restrictions may be in place, and testing may be available.
Check the upper-left corner of our website for the current flag color. Note that this will change as conditions do.

The wind is yellow, but I'm green rated. Can I still sail?
Green-rated members can usually sail on a yellow flag day if they take a Keel Mercury or go with a yellow rated sailor. This policy is at the dockmaster's discretion, and extra restrictions may apply.
Are you open during bad weather?
Community Boating does not shut down due to rain, and all of our classes are offered rain or shine. However, if there is a risk of thunderstorms or other dangerous weather, we will bring everyone off the water and under protection*. Most classes continue on land during weather closures.
Where should I store my valuables?
We recommend leaving phones, wallets and other valuables in a locker on land. Members can either rent a locker for the entire season or use a free locker for the day; you'll need to bring your own lock or buy one from the front office for $10. The dockhouse and front office cannot hold any personal possessions. 
How do I take out guests?
First, add guests privileges to your membership for $35. You can purchase this add-on at any time, and there is no limit to the number of guest signouts per season.
Once you have passed your Mercury yellow test (or earned a higher rating), you can sail with non-members. The number of guests is limited by boat capacity — Mercuries can accommodate one member plus up to three guests. Alternatively, you can sign out a double kayak with one guest regardless of your rating.
When your guests arrive at CBI, they should register at a kiosk in the Main Bay. The kiosk will then print out a receipt that guests should present to the dockhouse staff before heading out onto the water.
Can I take a guest under 18 years old sailing?
Yes! Kids can sail or paddle with Adult Program members, as long as their parent or guardian has signed a waiver at the front office. Guests under the age of 10 are restricted to keelboats or kayaks.
Can I bring my dog sailing or paddling?
Well-behaved dogs can accompany their guardians on a keelboat, kayak or SUP. Dogs are required to wear life jackets while onboard (CBI does not provide dog life jackets), and pets must be leashed and accompanied on the dock at all times.
Classes & Tests
How do I register for classes?
You're eligible to sign up for classes once we receive a completed membership form. Class schedules are posted on our website, and you can register for classes online or at the front office.
How do I earn ratings?
Mercury Green: Just take Rigging and Shore School, our two introductory classes. Each of these classes is paired with a quick on-land test.
Mercury Yellow: After earning your green rating, you should take Mainsail I and II, two classes that will refine your sailing skills and prepare you for a yellow test. After that, you can take an on-the-water yellow test whenever the wind is yellow or red; no signups are needed for tests.
Mercury Red: You can take Jib I and II as soon as you earn a Mercury yellow rating. On-the-water red tests are available when the wind is red, and you will need a crew member.
—————-
Laser/420/Keelboat Green: Just take a Laser, 420 or Keelboat class, and a green rating is awarded if you successfully complete it. You'll need to earn a Mercury Red rating before signing up.
Windsurf Green: Rating is awarded after taking Windsurf Intro. Once you complete Shore School, one of our introductory Mercury classes, you can sign up for this class.
Laser/420/Keelboat/Windsurf Yellow & Red: No additional classes are needed. Just stop by on a yellow or red flag day and we'll administer a test. 420 and Keelboat tests require crew.
How long will it take me to earn my yellow rating?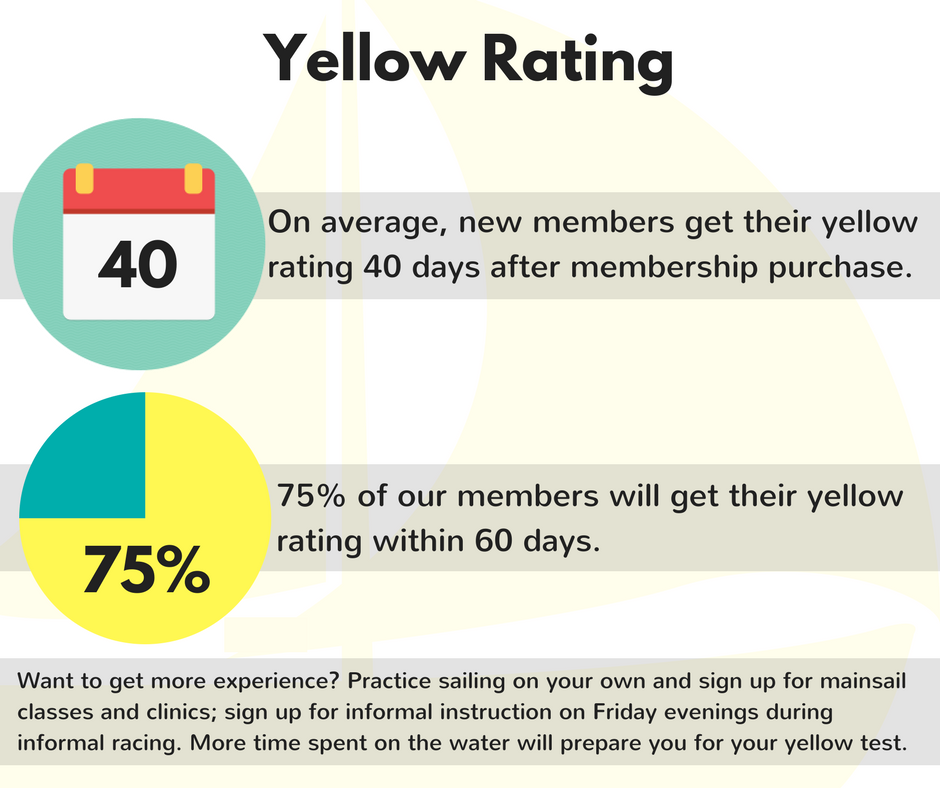 When can I practice for my test?
Sailors have a few options to help them prepare.
Each test has an optional on-the-water clinic designed to help sailors practice. Mainsail Clinic prepares you for the Mercury Yellow test, and Jib Clinic prepares you for a Red Test.
You should also practice outside of class time. Dock staff can help you by setting up a practice course, answering questions or pairing you with an experienced volunteer. If you wish to practice in wind that you're not yet rated for, check with the dockhouse. The staff may allow you to sail with restrictions.
When can I take my test?
Green Test (Mercury): Whenever the program is open.
Yellow Test (all boats): On a yellow or red flag day.
Red Test (all boats): On a red flag day.
Green Test (high-performance or windsurf): Awarded upon completion of class.