Make a splash with your team!
A sailing outing at Community Boating Inc. is a once-in-a-lifetime adventure that promotes teamwork and a spirit of camaraderie while enjoying the outdoors and having fun. After learning the ropes from our certified instructors, your team will take the helm and enjoy some fun competition. Each crew member will need to do their part to make the boats go fast – some will lead, some will follow, and all will learn the importance of communication and how seemingly small roles can make a big difference.
Community Boating also has indoor or outdoor space for meetings or luncheons. You can make a full day of it on our docks! With questions or to book, email [email protected]
Outing Details
We have a great deal of flexibility and options, and our staff is excited to help you plan the perfect outing for your team.  Here's an example of what a typical sailing outing looks like:
Sample Outing Timeline: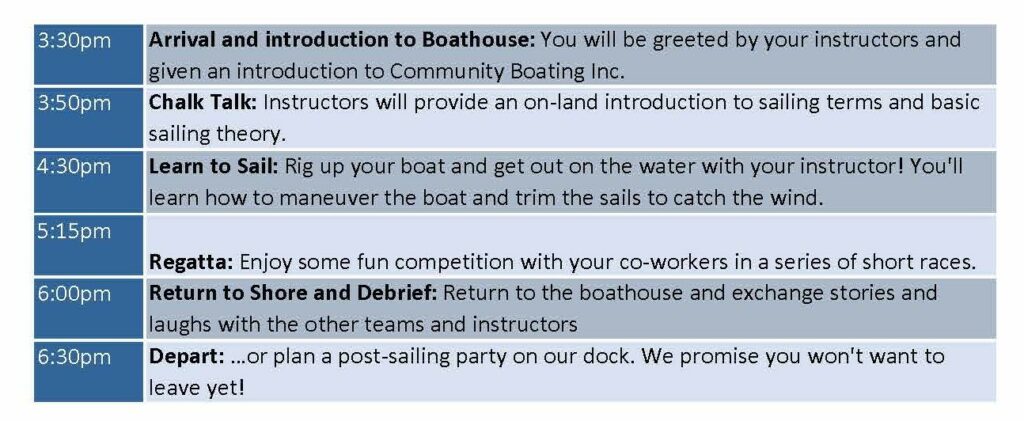 Outing Cost
Corporate outings at Community Boating Inc. are unique, affordable, and do good in the community.  CBI offers a 10% discount for non-profit organizations.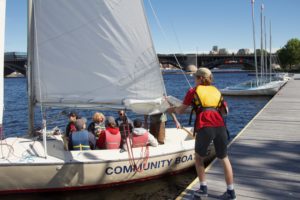 Base Event:
3 hour sailing outing for
up to 12 participants: $1200
13 – 24 participants: $2400
25+ participants: contact us for large group details and pricing.
Our Fleet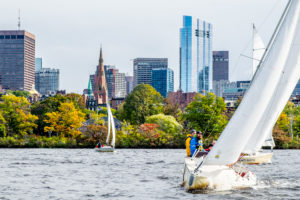 The Sonar is a fast and fun 23' keelboat, best sailed by 3-5 crew members.  For outings, it will be sailed with two sails, a mainsail and a jib.  When the boats get going, they can heel over (lean over) a good bit, but due to the heavy keel underneath, they can't capsize.  Crew members will need to move about the boat quickly and should be prepared to get a little wet!
Frequently Asked Questions
What does a corporate outing at CBI include?
An outing is a three-hour sailing experience; we provide instructors, sailboats, life-jackets, and an unforgettable experience. This includes an on-land intro to sailing, on-the-water instruction, and some fun competition.
What sort of experience or physical fitness is necessary? Will everyone on my team be able to participate?
The #1 requirement to participate is a good attitude and a willingness to try new things. Anyone who can move around without assistance in their everyday life will be able to participate with ease. There is no experience necessary, and there are a variety of jobs on board so everyone can be matched with a job that fits their abilities. If you have someone on your team who may need special assistance, please let us know! We can work with you to ensure that everyone is able to participate.
What about weather?
We do not cancel outings for rain, so please be prepared! We reserve the right to cancel the outing if there is a safety concern such as strong winds or lightning, and we will work with you to reschedule.
What should I bring?
A good attitude and some outdoor gear! We recommend a lightweight waterproof jacket, sneakers, sunscreen and a water bottle. Hats and sunglasses are great, but make sure you have a croakie or strap to keep them from falling overboard. Please wear comfortable clothes that you don't mind getting wet, and a change of clothes – on a windy day, you might get hit with some spray!
Can we bring food?
Yes! Snacks can be brought to be consumed either before or after sailing.
Where are you located? Do you have parking on site?
We are on the Charles River Esplanade between the Longfellow Bridge and the Hatch Shell. Due to our location on the park, we do not have on site parking. There are parking garages in the area, but we recommend taking public transportation if possible. The boathouse is conveniently located close to the Charles/MGH station on the MBTA's Red Line. The footbridge that crosses Storrow Drive linking Charles Circle and the Esplanade affords beautiful views of the River and leads you directly to our front door.
Do you offer corporate paddling outings?
We offer special discount rates for corporate group outings of 20 people or more. Kayaks may be reserved for $17 per person for two hours. Please note that any groups between 10 and 20 are still able to reserve kayaks for the regular rental rate of $34 per person. We need at least two weeks notice to ensure that we have enough kayaks available and can only host these outings on weekdays. Email [email protected] if you are interested or have any questions.
Help! I still have more questions!
Please reach out to us if you have any questions, we are happy to answer them! You can call the boathouse at 617-523-1038, or email [email protected]