Social & Competitive Sailing
Community Boating offers racing almost every day of the week! Racing is a fun and challenging way to get more out of the sport. It provides an opportunity to reinforce and build your sailing skills while becoming part of a friendly and competitive community. Hone your boat handling through competition and learn racing rules and strategies through classes. See our different racing opportunities below and learn how get involved, whether you're a seasoned vet or completely new to sailboat racing.
Friday Night Informal Racing
CBI staff organize several short races most Fridays after work. Racing is informal, so boats can join at any point in the evening. A social atmosphere blending camaraderie, fun, sailing, and competition; meet new people and broaden your sailing horizons.
Who: All skill levels welcome; whether you're a national champ or are just learning you're encouraged to sail with us.
When: Rig anytime and head out to race as soon as a few boats are ready and a course is set — usually about 17:30. Racing ends at sunset, so come out even if you free up a bit later.
Where: Meet on the water. Look for a cluster of Mercuries, the nearby committee boat flying flags & sounding horns, and big red tetrahedrons.
What: You can race mainsail, sloop or spinnaker, solo or with friends, keel or centerboard, as long as it's a Mercury.
UPDATES, NEWS & TIPS
See our blog below for updates, rules & racing tips, watermelon announcements, and hilarity. Sign up for email updates so you don't miss a post; typically weekly or less or join by sending a blank email to [email protected]
Unsubscribe by sending a blank email to [email protected]
Tiller Club Racing
Tiller Club is a community of CBI sailors with the goal to promote racing at all levels.
What: We run seasonal racing series, trophy regattas, single-handed events, and races in keelboats and dinghies, in boats provided by CBI.
Who: Skippers with knowledge of the Racing Rules of Sailing and the Tiller Club Sailing Instructions. Novice and experienced crews welcome. Come with a teammate, or connect with one at CBI (two sailors per boat unless specified). We ask regular skippers to get their Racing Skipper rating by taking a brief online test on the racing rules. Contact [email protected] to request the test.
When: Sunday mornings. Rigging and registration 9:45-10:10am, skipper's meeting 10:15, first race starts at 11am (you should be on the racing course at that time). Series days: no race starts after 1pm; no lunch break, no boat rotation. Regatta days: no race starts after 2:30; short break for lunch and boat rotation. See schedule for details.
Cost: $5 per boat to cover trophies and administrative expenses.
Getting Involved
Come down on race day with your teammate. Arrive by 9:45am, rig your boat and register before the 10:15am Skippers Meeting. Racing starts promptly at 11am.
Learn To Race class series for new racers, or those needing a refresher
get your Tiller Club rating by completing a test on the racing rules of sailing (CBI membership required)
regular, experienced participants are expected to assist with Race Committee occasionally; we're volunteer driven
Like our Facebook page for weekly results, photos, etc.
Sign up for our Tiller Club Google Group for important updates or to connect with skipper/crew
With questions or to request a link to the online Racing Skipper test, contact

[email protected]

intermediate & advanced racers: CBI hosts offer a series of practices to sharpen your skills
Tiller Club Executive Board 2023
Commodore: Robin Weatherill
Vice Commodore: David Chudzicki
Steward: Joshua Gahm

Members-at-Large:
Nick Afshartous
Trina Arpin
Terry Duncan
Max Kraft
Documents & Links
Learn To Race
Tiller Club volunteers teach classes and clinics designed to introduce sailors to the competitive sport, and to expand the horizons of experienced racers.
Learn to Race Class Series
Our Learn To Race class series is designed to demystify sailboat racing for the intermediate sailor with little or no racing experience. The course is taught in three 90-minute chalk talks — Intro to Racing, Basic Racing Rules, and Basic Racing Strategy.
While all three lessons are on land, the instructor will also provide details on several opportunities to put your new skills to the test on the water, including those below and at community-boating.org/adult/racing
Who: Members with Mercury Yellow rating (Jib class suggested)
When: See schedule and sign up in advance through the Online Member Portal
Novice Racing Clinics
For first time racers, this companion clinic will help put new skills and knowledge from the Learn-to-Race classes into practice. Learn through practice starts, races with on-the-water support, and a debrief afterwards. Tiller Club members will help introduce first-time racers to the sport, directing them to understand the course, locate the marks, and comprehend the starting sequence in order to get around the course properly their first couple times.
Who: Members with Mercury Yellow Rating who have taken LTR part 1
When: See schedule and sign up in advance through the Online Member Portal
Intermediate & Advanced Instruction
CBI volunteer instructors run intermediate race practices geared towards regular CBI racers.
High Performance Racing
We're a friendly group of CBI members interested in the speed and excitement of sailing and racing 420's and Lasers. Our group is dedicated to improving our sailing skills, while having fun on the water through informal racing. Most weeks, we run several short races with no score-keeping, so boats may join at any point in the evening.
Who: Whether you were a college all-American or just learned the racing rules through CBI's Learn To Race class series, you're welcome to sail with us. A 420 or Laser rating is required to skipper. Crew may have any rating, but must match up with a skipper.
When: Monday evenings starting after 17:00. We head out to race as soon as a few boats are rigged and a course is set. Racing ends 30 minutes before sunset.
Where: CBI main dock, rain or shine. If arriving late, meet us on the racecourse.
Contact & Updates
To see important updates, ask questions, or match up with a crew/skipper, join our CBI High Performance Racing google group. Or subscribe by sending a blank email to [email protected].
Note that Google Groups allows you to control the frequency of emails as there is often a high volume on summer Sundays/Mondays.
Women's Racing and Sailing
The mission of Women's Sailing and Racing is to advance the sailing skills of women at CBI through racing and practice in a challenging, supportive, and social environment. We welcome women at all levels of experience interested in participating in recreational or competitive sailing and skill development.
Social Sailing on Tuesdays: Women of all skill levels are welcome Tuesdays. It's an opportunity to meet friends, expand your sailing skills and share the joy of sailing.
Racing on Thursdays: Our racing is informal and focused on skill development. Experience with a jib and/or a yellow rating is ideal to start to crew. The first time you join us for racing, please select a day where you have the flag-rating. We either pair up on the dock or on Slack so you do not need to bring crew.
To stay up to date join our Google Group or our Slack channels (email front office for access, [email protected]).
Co-able Keelboat Racing
An inclusive group of CBI members interested in the teamwork and power of sailing and racing Sonars and Ideal 18's. We're dedicated to improving our sailing skills and building camaraderie, while having fun on the water through informal racing.
Co-able Keelboat Racing is organized by CBI staff every Wednesday Night starting in May, and will race on Sonars and Ideal 18s. Sailors include members from both the Adult Program and Universal Access Program. We hold a competitors' meeting at 17:30 to brief sailors about the course, rules, and answer questions. We return to the dock approximately 30 minutes before sunset and hold a debrief on shore.
All are welcome to attend; UAP members should RSVP below:
Intermediate Racing Practice
Intermediate Racing Practices mailing list will be used to organize informal sessions where experienced racers can practice and improve their racing skills. While there is no regular schedule, anyone on the list can propose and organize a practice. These might involve a few boats or many boats and work on various skills depending on the interests of the organizers and participants. Advanced racers may sometimes volunteer to provide formal or informal coaching at these practices.
The general expectation is that skippers in the practices should:
Know the racing rules
Have skippered in at least a few Tiller Club, Women's Racing, or Friday Night races
Have Mercury red rating
Crew should have some racing experience but need not have red ratings nor rules expertise
Organizers of particular sessions may tailor these requirements depending on the goals of the practice. Sign up for the email list:
https://groups.google.com/g/cbi-intermediate-racing-practice
(The 2017-2020 blog can be seen below)

Windsurf & SUP Racing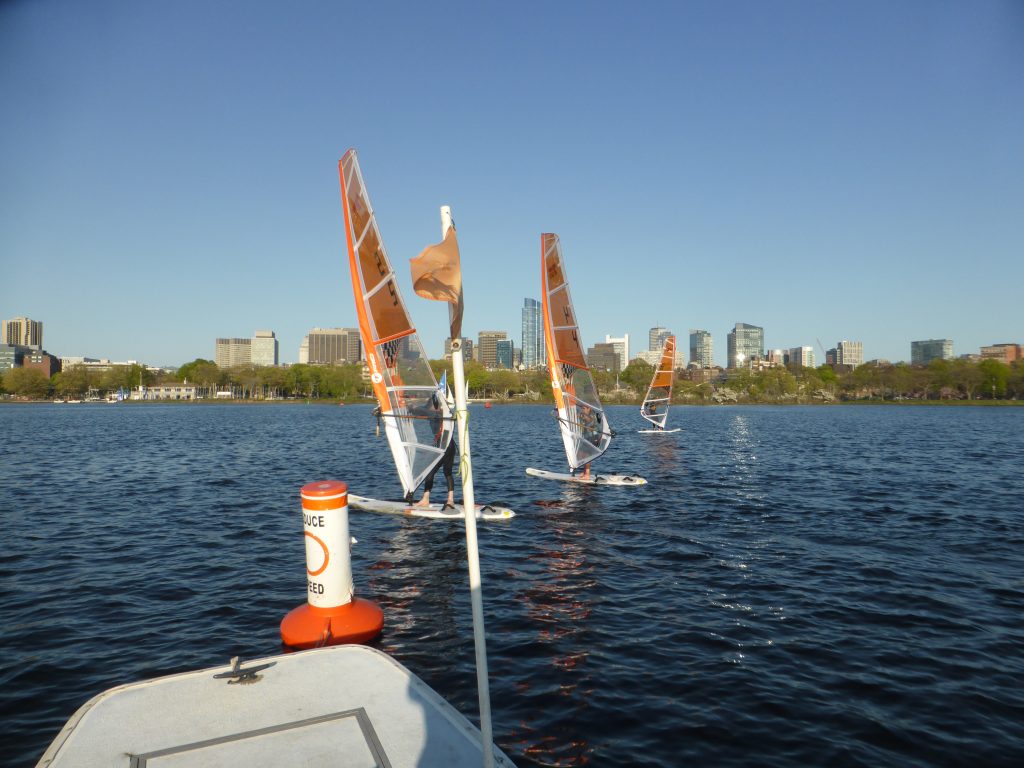 The CBI Windsurfing Community is a diverse group of people, who share a love for water sports; world class windsurfers and beginners having fun and learning from each other. We race the BIC One Design 293 with a 7.8 rig, but you can go with a smaller sail if you feel more comfortable (or more competitive).
Who: All windsurfers with a yellow rating are welcome, whether you're a pro or just learning the racing rules through CBI's Learn To Race class series.
When: Every Tuesday at 17:30 (rigging starts earlier). We will run several races, and go until sunset
Where: Meet at the windsurf shed. Don`t forget to check out at the dockhouse before rigging.
SUP Racing
TBA
Stand Up Paddling and Windsurfing is a great combination to stay in shape ?
Contact & Updates
Curated Racing Links & Videos