Organizational Structure
Community Boating is a private not-for-profit 501(c)3 corporation. The organization is overseen by a Board of Directors, elected by our Corporation, a subset of about 250 members who through their volunteerism show special concern with the future of the organization and with the preservation and utilization of Boston's natural resources. The Board's primary functions are to approve an annual budget, set policies, advise management, serve as community liaison and to spearhead specific committees and fundraising efforts. Meetings are held on a regular basis and are open to all CBI members who wish to attend.
Join the Corporation
Consider becoming a member of the corporation if you: are enthusiastic about CBI, a regular participant in our activities, volunteer at CBI or wish to contribute to our mission. Members of the corporation meet once annually to elect the Board of Directors and review the mission of Community Boating.
Membership in the Corporation shall be open to all persons at least twenty-one years of age who express and demonstrate an interest in furthering the purposes of Community Boating, Inc., apply in writing to the Secretary of the Board of Directors, and are accepted by a vote of the majority of the Directors entitled to vote. Membership in the Corporation shall not be denied to any individual on the basis of race, sex, creed or national origin.
To apply, please email a request to [email protected], stating your interest in becoming a Corporation member and outlining current interest in, and contribution to CBI.
Board Meeting Schedule
Tuesday, November 23, 2021
Tuesday, December 21, 2021
Tuesday, January 25, 2022 – Strategic Planning
Tuesday, February 22, 2022
Tuesday, March 22, 2022 – Strategic Planning
Tuesday, April 26, 2022
Tuesday, May 24, 2022 – Strategic Planning
Tuesday, June 21, 2022
Tuesday, July 26, 2022 – Strategic Planning
Tuesday, August 23, 2022
Tuesday, September 27, 2022
All meetings are at 6:30pm at the boathouse or held virtually due to COVID-19 guidelines.
For all members interested in attending a Board Meeting please contact the Secretary at [email protected] to be included on the meeting invite.
The Annual Meeting of the Corporation is scheduled for Monday, October 17, 2022.
Annual Meeting of the Corporation of Community Boating Inc.
Meet Our Board
Adam Gorlovsky-Schepp (2024)
President
Pam Harvey (2022)
Vice President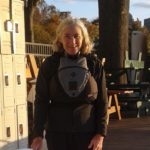 Pam discovered CBI in 2013 and quickly became an enthusiastic participant in its volunteer and racing programs. Her volunteer activities include the seasonal work parties, Orientation, Informal Instruction, and First Sail. She serves on the Recruitment Committee, an initiative of the Board to increase the number of Corporation members, and as co-chair of the Raise the Sails fundraiser. Eager to share her experience, Pam has been quite active with organizing CBI's Women's Racing program, which provides additional opportunities for women members to get experience on the water and at the helm. She learned to sail as a child in Woods Hole in a dinghy so small she was always at the helm, and also has sailed larger cruising boats. Pam's professional background as an environmental lawyer and presiding officer at the Department of Environmental Protection focused on wetlands protection, water quality, and coastal issues, and she has a continuing interest in the water quality of the Charles. Having left state government, she remains active in assisting environmental groups with climate change adaptation and other policy initiatives and in continuing legal education. She also enjoys hiking, playing the flute, and spending time with family in Woods Hole.
Dana Robinson (2023)
Treasurer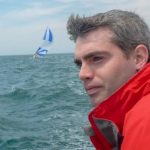 Dana started sailing at CBI in the summer of 2013. With little prior knowledge of sailing, he had a lot to learn. He quickly found racing and used it to hone his skills. By the end of the summer, he was racing seven days a week and wanting more. He still loves racing and has expanded his sailing to include Frostbiting on Boston Harbor, sport boat racing on an international level, local big boat racing, and being part of blind sailing. The community spirit and teaching environment of CBI made it the perfect place to learn. With so many people giving so much time and effort to help his sailing, he felt the need to give back. He started volunteering with the Budget and Finance committee in his first year and was elected to the Board in 2017. When he's not sailing, Dana likes to rock climb, play board games, and hang out with friends. Dana works as an accountant at a local university.
Chip Gaysunas (2022)
Assistant Treasurer
Chip grew up near the water on Boston's South Shore, but his passion for sailing didn't begin until 2004, when he took a "Learn to Sail" class at the Boston Sailing Center on Boston Harbor. Looking to build on his experience at the Boston Sailing Center and attracted by Community Boating's "ideal combination of convenience, affordability, access to the Charles River, volunteer opportunities, and programming for sailors of all abilities", Chip joined Community Boating in 2007. As a CBI member, Chip has enjoyed teaching classes (Mainsail & Jib), participating in work parties, competing in regattas and attending CBI-sponsored social events. In recent years, Chip has served as a CBI Board Member and as Treasurer, overseeing CBI's Budget and Finance Committee. In addition to the joys of sailing on "the Charles", Chip cites the opportunity to meet and develop relationships with other CBI members and staff as one of the most rewarding aspects of his time at Community Boating. Chip has over 30 years of experience in finance and accounting and is currently working as a Senior Credit Officer for Customers Bank (NYSE: CUBI). Chip and his wife Kaska have a one-year old son, Chase, and reside in Belmont.
Catie O'Sullivan (2023)
Secretary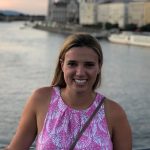 A lifelong sailor, Catie grew up sailing on Cape Cod and had the opportunity to race at the national level in high school and college. Catie first got involved with Community Boating as a staff member in the Junior Program where she led the Instructor-in-Training program. Most recently, she has been involved in CBI's strategic planning and development committees. Catie's professional background combines strategy, technology, and project management. She is currently pursuing her MBA at Harvard Business School.
Deb Boudreau (2022)
Director At Large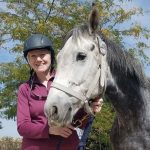 Deb learned to sail at Community Boating in the late 1970s and in the 1980s took a gamble to purchase a Lifetime membership initially created to kick-start a Community Boating Endowment Fund. It was a smart buy as Deb has been sailing on the Charles River continuously since that life membership purchase. She enjoys giving back to Community Boating as a member of the Budget and Finance Committee, participating in CBI events and work parties and as a volunteer faculty – currently teaching Mainsail and Jib classes. She has taken out many members for their first sailing experience or their first sailboat race. Deb has a background in finance and accounting having worked in audit, accounting, and financial reporting and analysis for the insurance and financial services industry. In her non-sailing activities, she enjoys horseback riding and travel, especially week-long riding holidays in places such as: Iceland, Wales, Ireland, Spain, and hopefully a "bucket list" African safari equestrian adventure.
Ikay Iwobi (2023)
Director at Large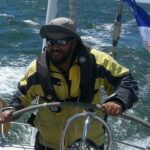 Ikay started learning to sail at Community Boating in 1999 after walking by while exploring the Esplanade. He quickly became involved in nearly every aspect of the organization from racing to teaching to social events. Though he's enjoyed many sailing adventures beyond Community Boating, including two Bermuda races and multiple charter trips in the Mediterranean and Carribean, he's never happier than when sailing a Mercury in the shifting winds of the Charles river. He previously served 3 terms on the Board of Directors beginning in 2002 and spent several years as board Secretary. Professionally, he's a lead support engineer with a major learning technology company in Boston. He lives in Arlington with his wife and young daughter.
Brian McManus (2024)
Director At Large
Catherine Rockett (2024)
Director At Large