Humane Society Recognizes CBI Staff with Commendation of Life Saving
June 5, 2022 felt like any other summer day in Boston, perfect for boating on the Charles River. Soon, however, Community Boating, Inc's (CBI) Associate Director of Community Relations, Evan McCarty, and Director of Sailing Programs, Sam Peirson, were rescuing two people and their dogs from drowning.
McCarty was driving when he heard something over his radio scanner.
"I heard a call for a water rescue at the Mass Ave Bridge," McCarty said. CBI staff aren't official first responders, but often are the first on scene to incidents on the Charles River. McCarty was five miles away from CBI. He continued, "Fortunately, the radio system CBI upgraded to in 2019 thanks to a Humane Society grant has a long range."
McCarty radioed Peirson, who was operating one of CBI's safety launches. Peirson responded to the alert.
"As I got there, I saw kayaks from another rental company which had flipped over and were sinking," Peirson said. A man, a woman, and their two dogs were in distress and in danger of drowning. They were having difficulty keeping their heads above water. Though the people were wearing life jackets, they were fastened improperly, as if they had scrambled to put them on after capsizing. The dogs were not wearing any floatation devices.
Sensing the urgency of the situation, Peirson leapt to action. He tossed a throw rope, a standard piece of equipment carried in the safety launches, out for the kayakers to grab. The woman caught the line, bringing the dogs with her, and Peirson pulled her up the boarding ladder. The man, however, was disoriented and flailing. Peirson had to maneuver closer to safely draw him from the water.
"I knew what to do because all of CBI's safety launch operators are trained to pull people out of the water, and do so on a daily basis," Peirson said. "As part of our job we routinely assist our vessels and patrons on the water. People capsize frequently. We're always prepared."
Meanwhile, McCarty listened to the water rescue play out over the radio. He heard one of the command staff from the fire department on scene say, "The CBI safety launch has it under control."
Once the kayakers were in Peirson's safety launch, he made sure they were okay and helped them properly fasten their life jackets. Then he looked up. A drove of emergency vehicles were parked on the bridge above. One of the firefighters shouted a greeting. He knew Peirson from Boston Fire Department's equipment testing at CBI's boathouse.
"Having relationships with first responders is so helpful because they recognize us when we're responding to an emergency," Peirson said.
Peirson passed the kayakers off to Emergency Medical Services and phoned the rental company from which they originated. Both kayakers (and both dogs) were fine.
Peirson said they could have avoided the situation by keeping their life jackets on and fastened correctly. "I'm always catching kayakers with their life jackets off. I won't leave until they put one back on. We take life jackets incredibly seriously at CBI. We're in the business of sailing for all, and that means making sure everyone is as safe as possible."
"Prevention is our biggest goal," McCarty added. "Life jackets are a primary part of the strategy to keep sailors out of trouble."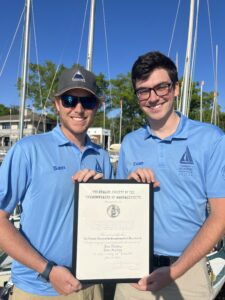 Word about Peirson and McCarty's dedication to water safety spread quickly throughout the Boston boating community. CBI's board of directors nominated McCarty and Peirson for the Humane Society's Commendation of Life Saving award. They won the award, plus a $1,000 grant for CBI.
Peirson emphasized that the whole CBI team was responsible for the rescue. "Team effort is what put us in the position to succeed," he said. "Without the maintenance staff, the powerboat might not even turn on! I happened to be the person on the boat that day, but any of the trained staff would have responded the same way. In my six seasons here, I've never seen a problem we can't solve together."